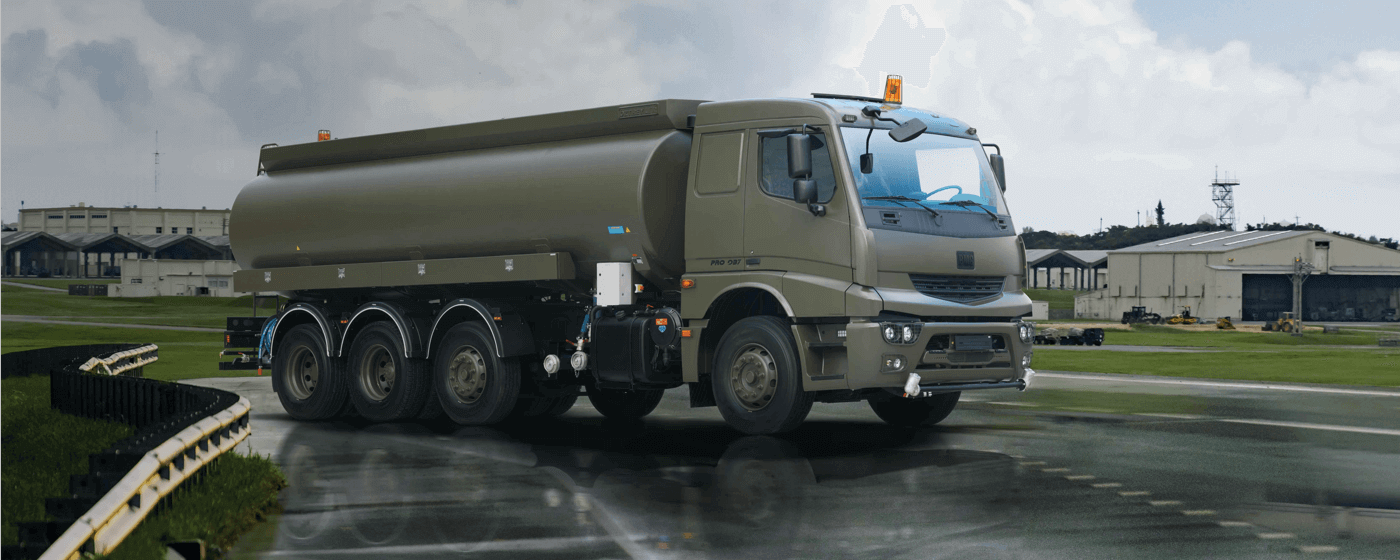 Logistics Support Vehicles
Logistics Support Vehicles custom-manufactured by BMC in line with the customer's expectations are used in a number of functions such as Airplane Fueling Truck, Special-Purpose Tow-Truck, Firefighter Vehicle, Water Tanker, Sewage Truck, Refrigerated Vessel, and Garbage Truck.
BMC Water Tanker (8x2)

A member of the Logistics Support Vehicles family, BMC Water Tanker (8x2) is capable of reaching speeds up to 114 km/h thanks to its 6-cylinder turbo diesel engine. The truck is noteworthy with a performance level above its class, and is capable of climbing slopes up to 18%. Noted for its enhanced maneuverability under difficult operational conditions, BMC Water Tanker offers air-conditioning system and independent cabin heater among its standard set of equipment.
Analyse
With a tanker capacity of 20,000 l, and a maximum loaded weight of 32,000 kg, BMC Water Tanker is always ready to operate even under the most trying conditions.
Equipped with a powerful turbo intercooler diesel engine, 16-forward and 2-rear speed transmission, BMC Water Tanker is ready to perform its duties successfully at all times.
Tank Transporter
Tank Carrier Vehicles designed with domestic and national resources under the leadership of the Ministry of National Defense have been produced effectively. First off all, Altay Tank, M60 Tank, Fırtına Howitzer, Leopard Tank, Armored Combat Vehicle, Armored Personnel Carrier and all kinds of military and civilian vehicles.
Analyse
Aktan
AKTAN Battle Field Fuel Tanker is a specially developed land vehicle which can supply fuel to the both land and air defence vehicles such as aircrafts, helicopters and tanks from the land during operation to prevent interruption of the operation.
The vehicle, which can simultaneously support fuel oil to four vehicles, is designed and engineered to maximize the operational power of the armies.
Analyse